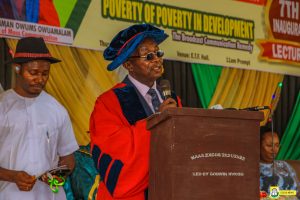 The Chukwuemeka Odumegwu Ojukwu University, Anambra State had her 7th Inaugural lecture on 23rd of June, 2022.
The lecture was held at the ETF Auditorium with the theme; "POVERTY OF POVERTY IN DEVELOPMENT: THE BROADCAST COMMUNICATION REMEDY".
The Vice Chancellor of the University, Prof. Greg Nwakoby, in his brief remarks, reminded the distinguished scholars that an Inaugural Lecture is a lecture which the University Community anticipates and today being 23rd June, 2022, Chukwuemeka Odumegwu Ojukwu University Anambra State is having her 7th exceptional inaugural lecture.
The Inaugural lecturer, Professor of Mass Communication, Prof. Emmam-Owums Owuamalam, dissected every aspect of poverty of poverty.
Congratulations to Professor Emmam-Owums Owuamalam!
Congratulations to Chukwuemeka Odumegwu Ojukwu University Anambra State.
©COOUNews 2022.