OUR MISSION
Chukwuemeka Odumegwu Ojukwu University was established to be an internationally acclaimed centre of excellence for scientific innovations, technological breakthrough and sustainable human development that will meet local, national and global socio-cultural and economic challenges.
OUR PHILOSOPHY
It is the philosophy of the University to pursue academic excellence in all aspects of human endeavour relating to cultural, social and economic developmental needs of the nation. The University places high premium on arts, science and technology and their application to enhance the overall well-being of the society.
BREAKING NEWS
The University has released her 2015/2016 session first batch admission list. Click Admission menu on top to view or check your admission status.
Also be informed that any Information about the University that is not from our site www.coou.edu.ng or our offices at Uli, Igbariam and Amaku is null and void and any contract entered is at your own risk.
Online Course Registration Processes
In line with the University desire to commence online registration and approval of courses with effect from 2013/2014 academic session, we wish to remind you of the process (steps) and your respective roles to enable you advise your students and enhance effective implementation.
2015/2016 School Fees Schedule
Here is the Regular Students fees regime of the University for 2015/2016
The University invites interested reputable construction Firms to the pre-qualification and consideration of tender for the  construction of the following….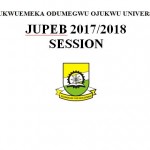 Applications are hereby invited from suitably qualified candidates for admission into the JOINT UNIVERSITY PRELIMINARY EXAMINATIONS BOARD (JUPEB) programme for 2017/2018 session. The programme leads to the award of JUPEB Certificate which enables candidates gain Direct Entry Admission into Chukwuemeka Odumegwu Ojukwu University, Anambra State and other JUPEB affiliated Universities in Nigeria and Abroad. DURATION […]
Chukwuemeka Odumegwu Ojukwu University is a degree awarding institution approved by NUC
Nothing can stop the man with the right mental attitude from achieving his goal; nothing on earth can help the man with the wrong mental attitude
Move out of your comfort zone. You can only grow if you are willing to feel awkward and uncomfortable when you try something new.
Always listen to the experts. They'll tell you what can't be done and why. Then do it